There is a strong case for the 21st-century business executive to add sustainability to the core of their business strategy. More and more businesses are seeing a positive impact on performance and revenue after applying sustainability-based principles and practices. Yet, executives are still wary of putting sustainability at the top of their priority list. They have the mistaken belief that the costs outweigh the benefits.
Implementing a sustainability initiative can and will improve your company's financial performance, build customer loyalty, and attract and engage employees when done correctly.
3 Ways Sustainability Can Boost Your Business Growth
1. Improve Your Company's Financial Performance.
There are financial benefits that accrue from increased competitive advantage and innovation. Companies are realizing significant cost savings through environmental sustainability-related operational efficiencies. Investors are also now able to track high performers on ESG (Environmental, Social, and Governance factors). They are correlating better financial performance with better ESG performance. Significant cost reductions can result from improving efficiency with better management of natural resources, such as LED lighting.
2. Build Customer Loyalty.
Today's consumers expect more transparency and tangible global impact from companies. The pressure is on for companies to rapidly address climate change. Nearly two-thirds of surveyed customers in a recent study by GlobeScan showed that they believe they "have a responsibility to purchase products that are good for the environment and society." Consumers care about more than price when making a purchase decision now, and other factors like safety, social impact, and transparency drive their motivations and decisions more than ever before.
3. Attract and Engage Employees.
Companies that invest in sustainability initiatives tend to create sought-after culture and engagement due to providing more value to society. Ultimately, employees will become proud to work at a business that is part of a broader effort.
Converting to LED lighting can help your business make right by your sustainability efforts.

LED Lighting Can Support Your Sustainability Efforts
If your company has a direct material, environmental, or social impact, it is imperative that you focus on minimizing the harm done on the environment and people by your business. This can create value for all stakeholders, employees, supply chains, civil society, and the planet. Improving your lighting system is a logical and easy first step. By making the switch to LED lighting, you can reduce your carbon footprint and overhead expenditures at the same time.
A 2017 study done by IHS Markit showed that the use of Commercial LED lighting to illuminate buildings and outdoor spaces reduced the total CO2 emissions of lighting by an estimated 570 million tons.
This reduction is roughly equivalent to shutting down 162 coal-fired power plants.
Sustainability is going mainstream. It's time to ask yourself, is your business going to be a part of the change or get left behind?
These 3 Businesses Made a Powerful Impact on the Environment
These 3 businesses invested in their sustainability initiatives by making the switch to LED lighting. As you can see, the simple change to upgrade boosted their appeal to investors, their teams, and their customers, directly impacting their revenue overall.
1. Dearing Compressor & Pump Co. – Youngstown, OH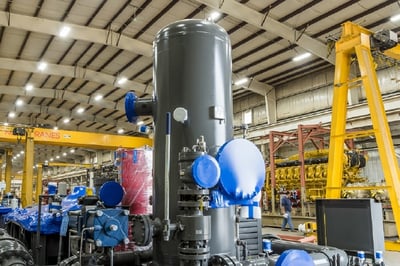 For 70 years Dearing Compressor & Pump Co. has provided customers with dependable equipment and systems for compressed air, gas, process gas, and hydraulic applications.
When they made the switch to LED, they were looking to provide a safer, more productive work environment while reducing energy costs. By upgrading to Commercial LED lighting, they were able to decrease their energy consumption by 47%.
This ended up saving them over $10,900 annually and creating significant environmental benefits.
With this much in annual savings, Dearing Compressor & Pump Co. was able to use the money previously allocated to their energy bills and put it back into their business.
2. Northmill Plaza – Palm Beach Gardens, FL

Northmill Plaza, located in Palm Beach Gardens, Florida is home to several retail outlets, markets, restaurants, and salons. The plaza's property managers had a goal to improve lighting efficiency and create a better sense of security while also reducing their overall spend on energy and maintenance.
Our team at FES designed a complete lighting solution for the plaza that not only improved lighting levels and eliminated maintenance concerns but also saved the business over $17,000 annually.
Northmill Plaza reduced its energy consumption by 70% with the help of FES and their decision to upgrade to Commercial LED lighting.
That small change made a huge impact on the environment.
3. Cooks Corner Shopping Center – Brunswick, ME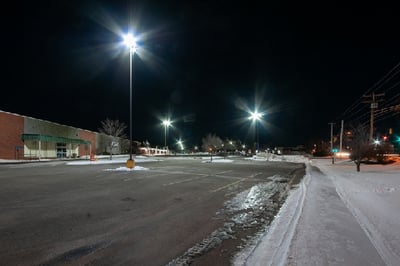 Cook's Corner Shopping Center is a regional power center within a heavily traveled and dynamic retail market in the oceanfront community of Brunswick, Maine.
The center is home to a diverse mix of retail shops, restaurants, and a movie theater. However, the shopping center was still not delivering a premiere experience for its tenants and shoppers due to severely outdated lighting.
By switching to sustainable Commercial LED lighting technology, they increased lighting levels, reduced energy consumption by 76%, and saved more than $14,000 annually.
By upgrading to Commercial LED lighting, Cooks Corner was able to help the environment as well.
These three businesses took a look at their existing conditions and realized that they could find better, more sustainable alternatives. They understood that reducing their carbon footprint by upgrading their lights would also reduce their out-of-pocket energy costs.
Find more savings tips to improve your business' finances in the 26 Bright Business Savings Ideas eBook.
As awareness around environmental issues increases, it is more important than ever to incorporate a mission of sustainability. Not only will this help the environment, but it will also let consumers know that your business is eco-friendly. Corporations have proven that sustainability initiatives lead to an improved brand image, happier shareholders, increased productivity, and countless other benefits.