When it rains, it pours. And it has stormed in 2020. Especially for small businesses.
SMBs have been hit harder by the economic impact of the pandemic than mid-sized and enterprise companies. And the data seems to be changing on the daily. In such a tumultuous business climate, it's hard to get reliable, accurate statistics about the impact of the COVID-19 on small businesses.
We've pulled together some data from some of the leading authorities for small businesses to help you understand how the pandemic is truly affecting small businesses, and how they can weather the storm.
The Real Impact of the Storm
Let's cut to the chase. Revenue is down and many small businesses are closing.
According to Main Street America and 30,000 small business owners, the aftermath is intense.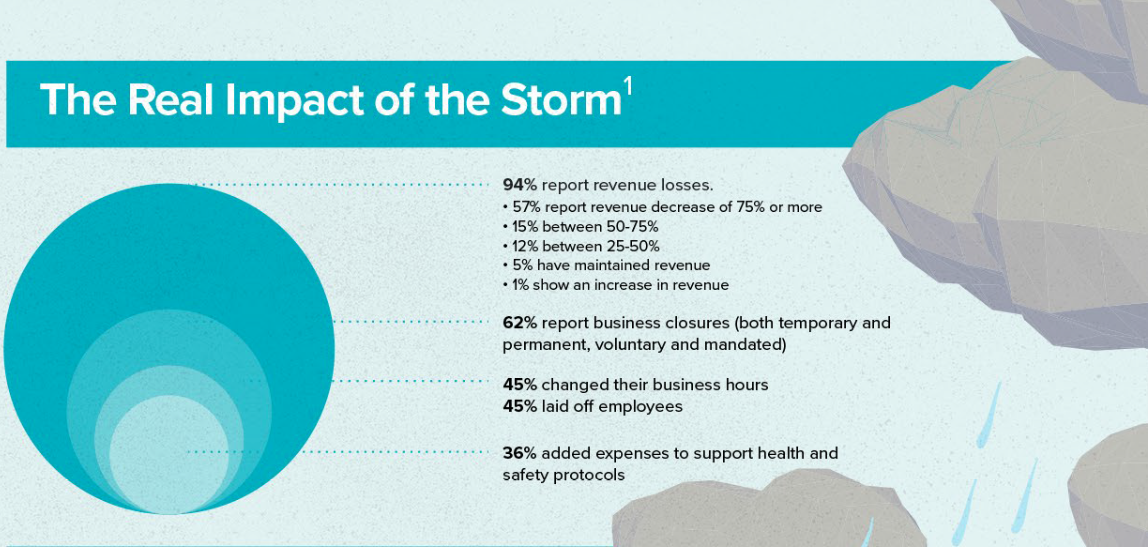 94% of small businesses report revenue losses due to the pandemic.

57% report revenue decrease of 75% or more
15% between 50-75%
12% between 25-50%
5% have maintained revenue.
1% show an increase in revenue.

62% report business closures (both temporary and permanent, voluntary and mandated).

78% have suspended storefront operations at some point during the crisis.
Not only is business down, but those who are still open are working with fewer operational hours, less employees and dealing with increased expenses.

45% have changed their business hours.
45% laid off employees.
36% have added expenses to support health and safety protocols.
Gloomy Forecast
Unfortunately, small businesses typically aren't prepared to deal with crises of this magnitude. They don't have the cash reserves or investment resources that their larger business counterparts have spent decades building.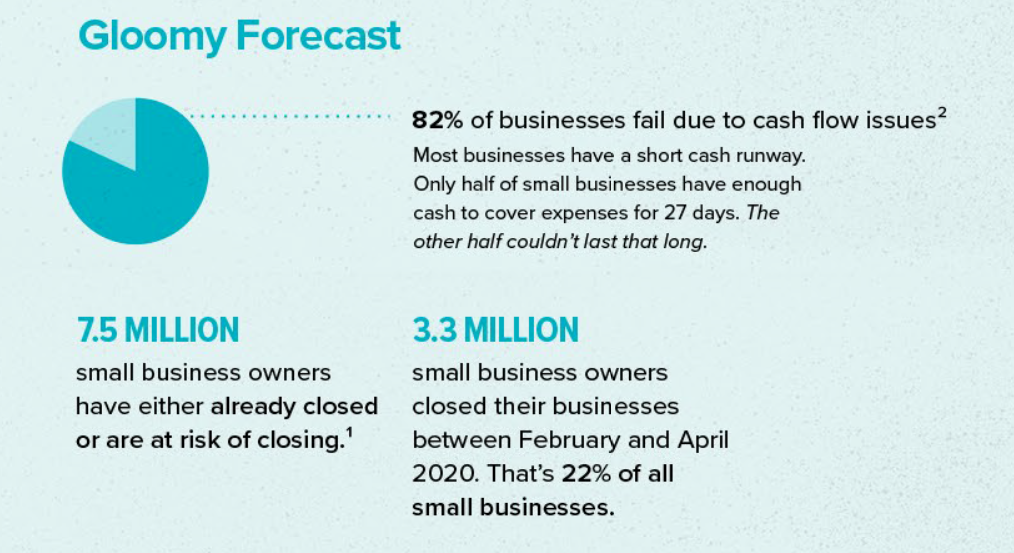 Business Insider reports that 82% of businesses fail due to cash flow issues. Most businesses have a short cash runway.
Only half of small businesses have enough cash to cover expenses for 27 days.
The other half couldn't last that long.
7.5 million small business owners have either already closed or are at risk of closing.
3.3 million small business owners closed their businesses between February and April 2020. That's 22% of all small businesses.
The Hardest Hits
Some industries have been hit harder than others.

According to Business Insider, the 10 industries most affected are:
Transportation & travel
Amusement parks, entertainment centers & casinos
Retail clothing stores
Personal services
Dentist offices
Video & sound recording
Restaurants & bars
Retail furniture stores
Sports
Hotels & hospitality
Restaurants & Bars
Restaurant owners across the country have been reeling since March. They've been overwhelmed with state restrictions, financial pressures, new health and safety protocol and patron concerns.
The bottom line revenue impact that the pandemic has had on the food service industry is disheartening when you look at it.
The restaurant industry lost over $25B in March 2020.
The number of seated diners is down by 22% worldwide.
110,000 U.S. restaurants are expected to close.
All types of restaurants are feeling the impact:

Fine dining sales are down 90%.
Casual dining sales are down 75%.
Fast casual revenue is 65% lower.
And quick service restaurants are down 60%.

22% of local Restaurants & Bars have closed.
Hotels, Hospitality & Leisure
Given that the world pretty much stopped traveling this spring and summer, it makes sense that a lot of hotel beds are going empty.
35% of small Hospitality & Entertainment businesses won't be reopening.
4.6 million hotel room bookings will be lost in 2020.
Unfortunately, this doesn't seem to be a short-term trend. While travel will pick back up a little, it may be years before it returns to 'normal.'
In fact, the number of lost hotel bookings as a result of the pandemic is projected to reach 8.1 million by 2024.
Retail
Consumers are simply spending less. And many of their purchases have shifted online.
This isn't as big of a deal for major chains, or even e-commerce sites, but for small brick and mortar retailers and local shopping plazas, it's a different story.
Preparing to Weather the Storm
Although the eye of the storm may have passed, the skies ahead are still unclear. Smart business owners are getting proactive and looking for ways to weather the storm.
There are three ways your business can secure a longer financial runway.
Seek financial support
Reduce budgets
Create a savings strategy
If you're trying to figure out how to save your business, this eBook contains some super smart tips and ways for SMBs to save money.
It will help you build a savings strategy, make savings part of your business culture, and identify some quick wins to help your company preserve the cash you have on hand.
Seek Financial Support
When faced with disasters beyond our control, government and public service organizations often rise to the occasion to support those most affected.
If your business has been affected by the pandemic, it's ok to ask for help.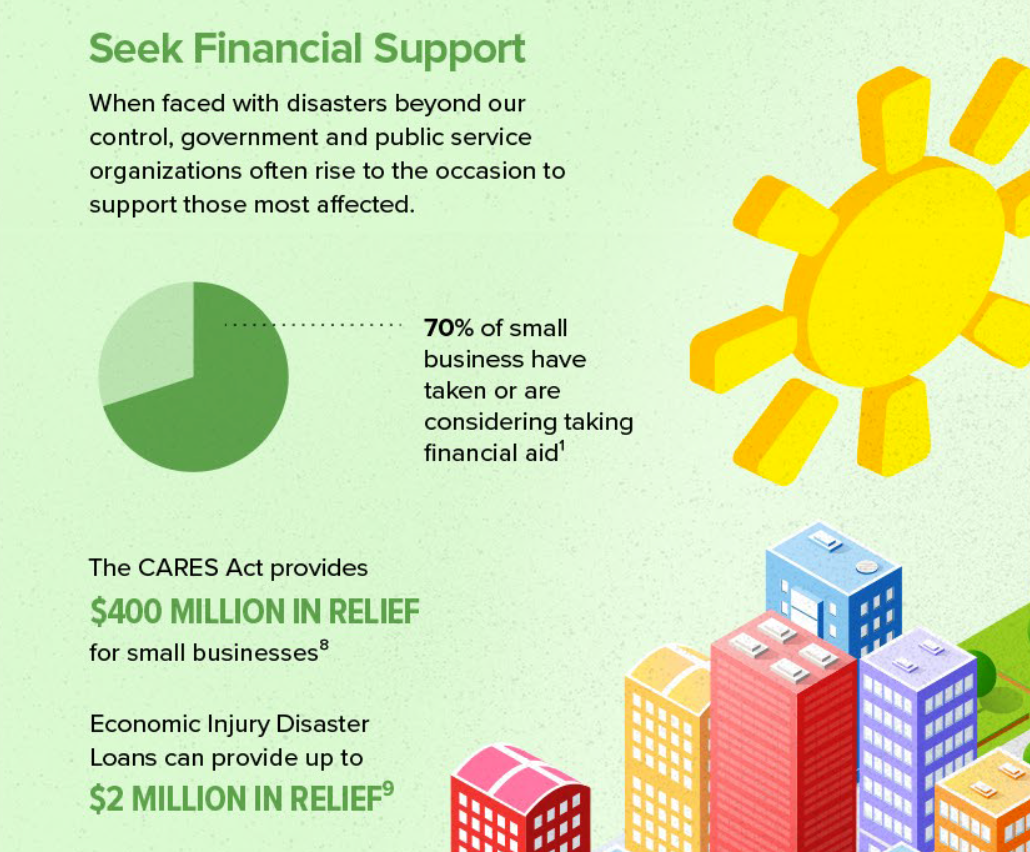 Reduce Budgets
Companies often make budget cuts in order to make cash flow last longer. Spendesk gives a great breakdown of the places financial leaders look to first to reduce expenses during a crisis.
65% pull back on hiring

This can be smart, unless those new roles are critical to your growth.

63% cut marketing & advertising budgets

Some say that the brands that double down on marketing right now are the ones that will come out ahead.
25% of companies know this and are increasing their 2020 marketing budgets.

50% eliminate some team perks

Be careful about the effect this can have on morale. Involving the team in the decisions can help get them on board.
Create a Savings Strategy
A savings strategy is different from cutting costs. Cost-cutting often involves trimming back on things that add value to the business. A savings strategy is all about looking at the ways your business might be wasting money and not even realize it.
There are six main areas you want to evaluate when building your savings strategy.
People
Marketing & Sales
Technology
Purchasing

Now is the time to negotiate discounts with your vendors. We've seen vendors giving as much as 50% off to new customers.

Infrastructure & Operations
Energy
Go Green for a Brighter Tomorrow
Green energy solutions are the key to reducing this $60 billion expense. Plus, sustainable energy options are healthier for employees, customers, and the environment.
If you need a smart saving solution that's better for your business and the environment, FES can help. Learn how you can

switch to LED for zero upfront cost

and get 15 years of free maintenance.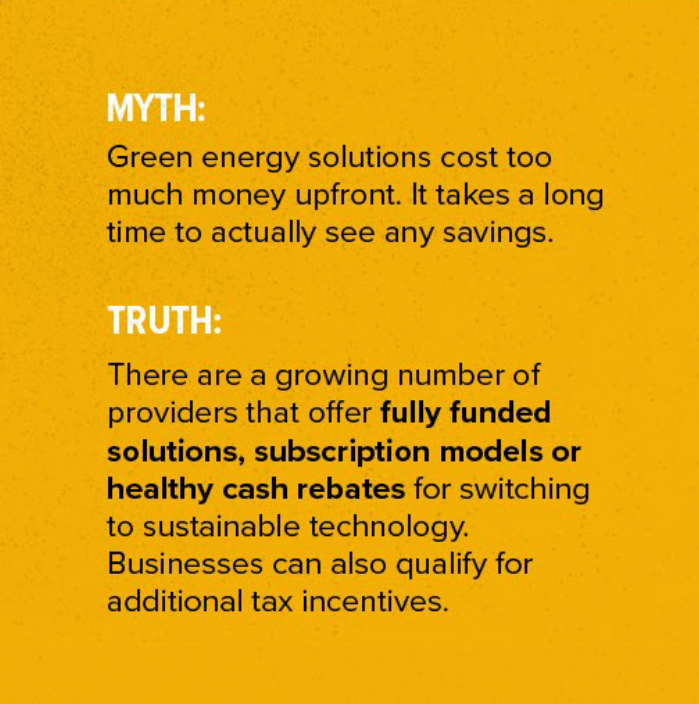 A Closer Look at LED
Click the image to open the full-sized version.

Share this Image On Your Site
Savings for Business Owners and the Planet
Future Energy Solutions is on a mission to make it easy for businesses to make smart energy choices. We've partnered with thousands of business owners to:
Generate $200 million in savings
Install 500,000+ energy-efficient lights
Eliminate 68 million lbs. of CO2 emissions yearly
Here's to a brighter, greener future for small business owners and our planet.
Learn 26 bright business savings ideas for your small business with this free eBook.